Small Works on Exhibit at Truro Center for the Arts at Castle Hill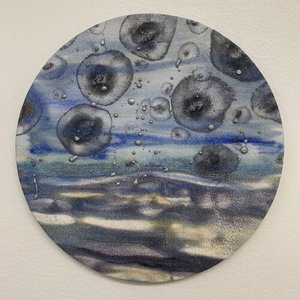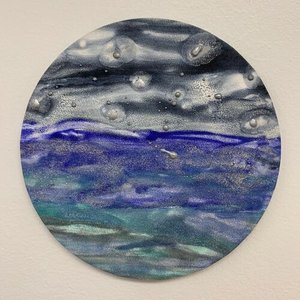 .
---
Encaustic Monotypes: The Basics to Creative Innovations - ZOOM to CASTLE HILL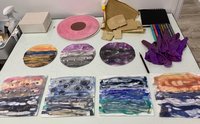 Encaustic Monotypes: The Basics to Creative Innovations
This four-session class is designed to take the participant from the introductory basics of encaustic monotypes and move towards experimental approaches and presentation of finished works. Students will learn about heat sources, encaustic wax, transparency, tools, papers and water base materials that can be used in tandem with the monotype.
Techniques of mark making, layering, texturing, and stencil creation will be demonstrated and discussed in videos and live talk. The final session will include ideas on presentation of the finished work both two and three-dimensionally. Each session will have a suggested exercise, followed by a Q and A of the resulting works made between classes. This is an opportunity to fully engage this process, learn the possibilities, and find your creative voice in this exciting medium. All levels of artists are welcome to join.

Register Now! ZOOM Class Starts January 14,
CHANGE from 1/7/2021 -- NOW STARTS 1/14!
Truro Center for the Arts at Castle Hill
Thursdays
January 14, 21, 28, February 4
10:30am - 12:30pm (EST)
4 sessions on Zoom
STILL OPEN, Now Starts on January 14!
---
Private Mentoring Available
Private Mentoring via Zoom!
Dorothy is available for private mentoring of artists who are working in all print techniques, and other media. Mentoring can include consultation regarding artwork creation and design, printmaking, painting, improving your technical skills, changing your style, marketing your work, or administering your practice, and many other areas of your creative work. Dorothy is a proven and innovative coach and teacher, in addition to her well-known creative talents. If interested, please contact Dorothy via e-mail through her contact page.
---
COVID-19 Update
All of my in-person classes and workshops have been canceled. All of my classes and mentorships are now conducted via remote, contactless computer support using live instruction and demos recorded in my studio. I am constantly developing more online programs, so please check back here, or on Facebook (DorothyCochran.33), or Instagram (dorothycochranart) for current information. STAY SAFE!